Catalyst Cares
We are a Catalyst for Change, creating relationships to push for fair, community-based, progressive efforts in the cannabis industry.
Volunteer with Us
Community Partners
Catalyst Cares is Catalyst Cannabis Co.'s community engagement arm and brand and grows and expands the Weed for the People Movement through community engagement, community outreach, and Weed for the People enculturation. Accordingly, Catalyst Cares (1) brings the Weed for the People Movement beyond Catalyst's dispensaries and into the surrounding communities; (2) promotes and lives a culture of volunteerism, activism, inclusion, and equity; (3) creates relationships within both the cannabis industry and local communities that will ensure growth and expansion of the Weed for the People Movement; and (4) develops and pursues policies that allow for equal access within in the cannabis industry as well as the surrounding communities (i.e., ensuring the cannabis industry provides social equity).
Catalyst Cannabis Co. will be welcomed with open arms by the political and community leaders in any jurisdiction considering the licensing of cannabis business operations, and its Weed for the People Movement will grow and expand through organic licensing and community engagement.
Connected Retail
Santa Ana
Belmont
Cherry
Bellflower
Rebrand as Catalyst Cannabis Co & Eastside Store Opens
Retail Store Realm Expansion Continues
Pine
Florence
El Monte
Marina
Pomona
Palm Desert
Hemet
San Bernardino
Catalyst Army Day
Largest volunteer turnout since Catalyst Cares established – over 100 employees, industry partners and family and friends.
National Election
Catalyst Cannabis Co. Expands with Wins this Past Election Season.
Retail Store Realm Expansion Continues
Normandie
Patterson
Silver Lake
MidCity
Watsonville
Figueroa
Stanton
Costa Mesa
Blood Drive
With a strategic partnership with LifeStream Blood Bank, Catalyst Cares hosts a recurring blood drive every third Thursday at a different…
National Election Results
Catalyst Cannabis Co. is happy to announce that their #WeedforthePeople Movement will continue to expand across Southern California.
LBs of Trash
Over a thousand pounds worth of trash has been collected since 2020 hosting monthly community cleanups and we are not slowing down.
Catalyst Cares was formed in 2020 at the peak of COVID and amid the social unrest where a need grew for a cannabis operator to be the 'Catalyst for Change', and serve as the policy and community engagement arm of leading cannabis retailer, Catalyst Cannabis Co. Read about each team member to see what expertise they brought into this FIGHT FOR CHANGE.
We are #CatalystForChange & will continue to work for a community that is for EVERYONE.
Community Outreach Program
Live Scan & Expungement Clinics
Education & Open House
Catalyst Cares hosts Open Houses and Cannabis 101 Workshops where we invite the community to visit our retail stores. With the Open House, this allows opportunity for our neighbors to see and learn first hand how a legal dispensary looks and operates. Our Cannabis 101 Workshops gives the chance for our neighbors to understand the science behind cannabis, seed to sale process, different ways of consumption, and cannabis safety. These events give Catalyst the opportunity to sit down with the people within our communities and have conversations to dispel stigmas associated with cannabis. "Knowledge is power," and Catalyst couldn't agree more and therefore commits to these in our Community Benefits Agreements.
Beautification Projects
Since 2020 Catalyst Cares has had a Community Cleanup once a month collecting over 1,000 pounds worth of trash across our expanding footprint. Gaining momentum from each cleanup, we now have partnered and will continue to partner with local nonprofits, community leaders, and local politicians such as but not limited to Mayor of Long Beach Rex Richardson, Pomona Beautiful, Santa Ana Councilmembers Jessie López and Benjamin Váquez, and more! Being a good neighbor is the essence of our actions and our city beautification projects are an example of that.
Necessities Drives
Catalyst Cares works with many non profit organizations to uplift the communities surrounding our retail locations. We host food, clothing, and necessities drives throughout our 17 retail store footprint and work in tandem with local entities so that they may administer the goods to those in most need. Catalyst Cares has worked with Community Valley Pantry, Inland Empire Health Center, Music Changing Lives, New Life Beginnings, YMCA Monterey County, Coachella Valley Mission, and many more. Together with our partners, we make sure we bridge the gap of necessity through community. Every Wednesday in San Bernardino, Catalyst Cares also distributes fresh food to citizens in need and are always open to having more volunteers and providers join us in the good work.
Blood Drives
With a strategic partnership with LifeStream Blood Bank, Catalyst Cares hosts a recurring blood drive every third Thursday at a different Catalyst retail store with more coming down the pipeline at locations. All blood is donated locally to the Loma Linda University Hospital. Via a joint social media marketing campaign, LifeStream and Catalyst spread awareness and break the stigma that cannabis users can not donate. Together, we are saving lives and educating the community and the industry. Catalyst has also leveraged their cannabis partnerships. Gelato Cannabis and Traditional sponsor both refreshments and hookups" when individuals RSVP and donate blood. Each person that donates a pint can save three lives. Catalyst is currently poised to be the biggest donor in their network with 140 pints saving 520 lives in the first 4 months of the program. #bleedforthepeople
Live Scan & Expungement Clinics
Catalyst Cares coordinates and hosts Live Scan and Expungement Clinics for our community providing the opportunity to start the process of clearing, sealing, or expunging their criminal records. Expungement of criminal records corrects some of the horrific pains caused by the decades-long War on Drugs. The clinic is a two-part process. First, we offer monthly Live Scan Workshops onsite at our retail stores where we give clients the opportunity to obtain criminal background checks that are required in order to have their criminal records settled. Once the records are received, we have a pro-bono legal team review their records at our June or December Expungement Workshop.
SB34
SB34 is State Bill 34 that was passed to allow medical marijuana patients with a valid medical recommendation or MMID and valid CA I.D./D.L./Passport to receive free medical marijuana. This Bill was led by the Weed for Warrior Project twice; once in 2018 when it was vetoed and then again in 2019 when it was passed. Because of this and their advocacy for mental health and wellness, it is why Catalyst partners with the Weed for Warrior Project for all our SB34 events. Since 2021, we have hosted over a dozen SB34 events! Starting small and slow in the beginning, we now host one SB34 event a month across our entire retail footprint! Coastal Sun, Ember Valley, Lowell, West Coast Cure, and Traditional and Gelato have been some of our biggest and longest donors since the launch of our SB34 events and we couldn't be more grateful.
Checkout our most recent newsletter!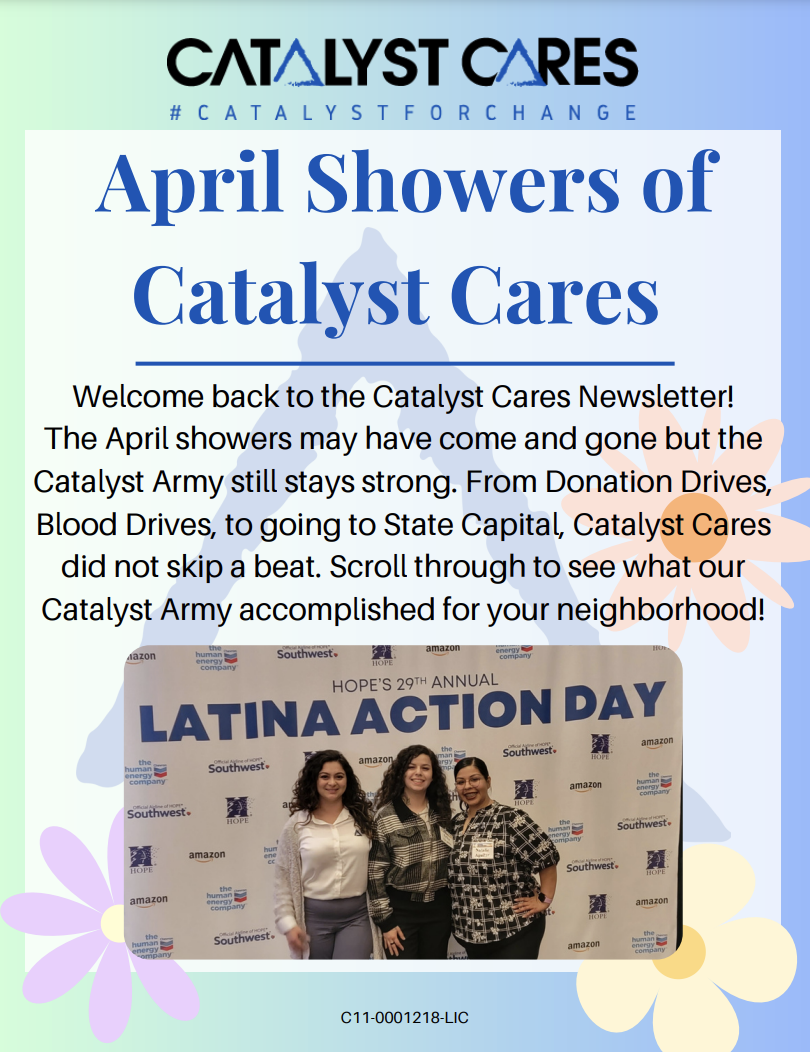 Cannabis Policy
Tax Initiatives | Social Equity | Ballot Initiatives | Expungement
Activists & Partners Showcase
Community Focused Partners
Stay updated with Catalyst by checking out the latest stories in your local news! Here are a few features Catalyst received in publications that highlights our work in the stores and beyond.
ANOTHER VIEW: Cannabis Providers Step Up to Help
ANOTHER VIEW: Equitable Cannabis Licenses
Study: California's licensed cannabis shops aren't selling to minors
Long Beach could soon allow adult-use cannabis dispensaries downtown
Cannabis and Labor team up to help clear criminal records
Elliot Lewis: Competing Against Cannabis Venture Capital in Southern California
A new cannabis delivery service aims to bring more diversity to the Long Beach cannabis industry.
Commission approves Downtown zone change that could allow more cannabis dispensaries
Weed for the People: Catalyst Cannabis focuses on community, equity, and accessibility
UFCW Apprenticeship Programs Set to Strengthen Union Cannabis Jobs